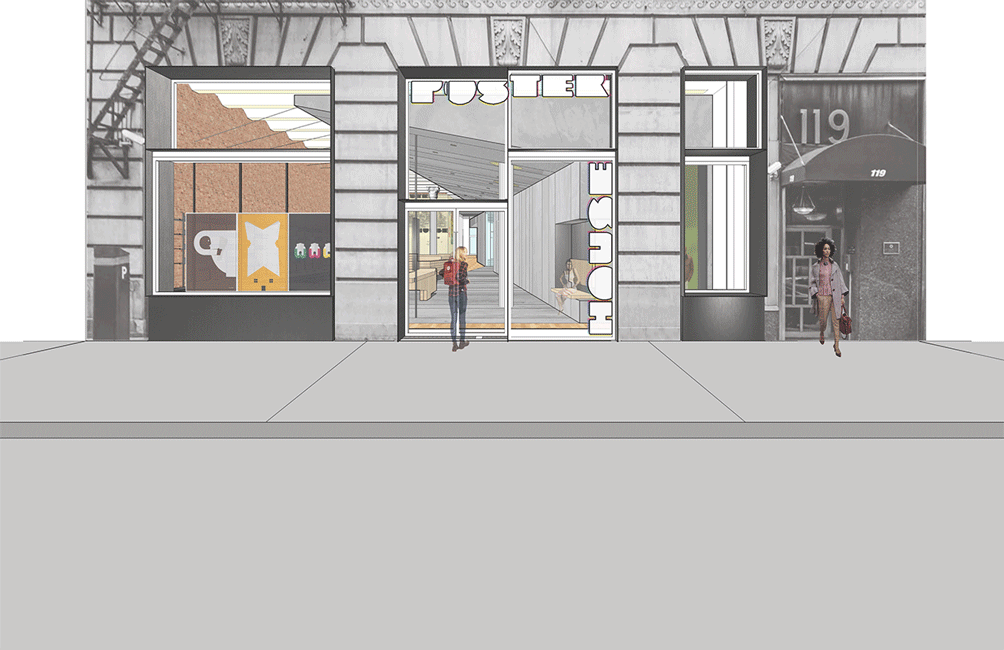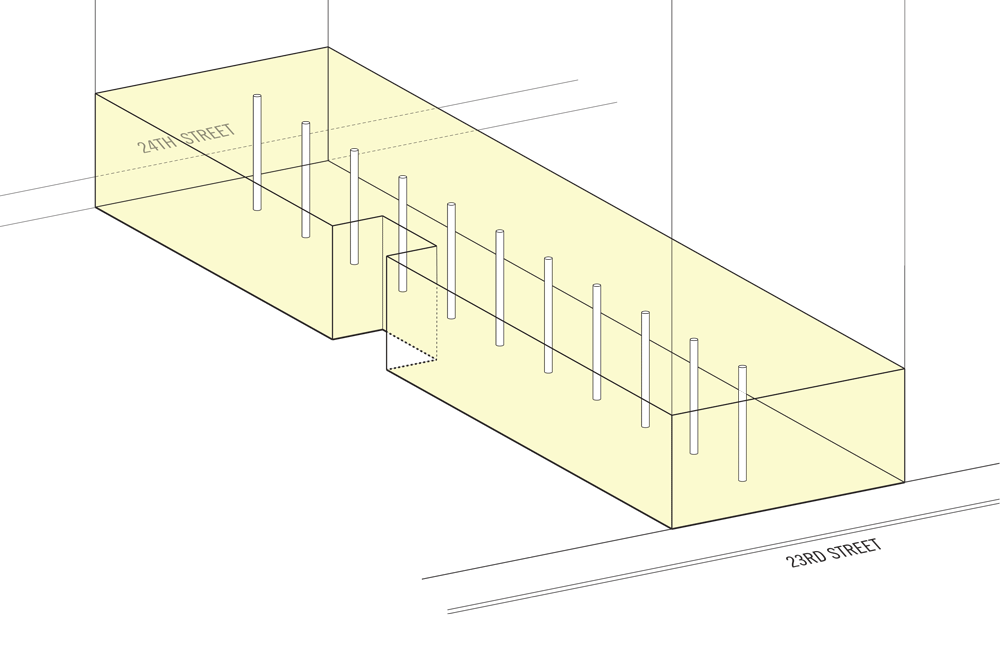 Poster House
New York, NY
14,500 sq. ft.
The design for Poster House, the first museum devoted to poster art in New York City, responds to both the unique qualities of the institution within the cultural landscape of New York City and the exceptional urban conditions of its site in the Flatiron district near Madison Square Park.
The site comprises a through block street level space and cellar extending from 23rd street on the south almost 200 feet to 24th Street on the north. The design leverages this exceptional condition to create a vibrant public space that links street to street, acting as an extension of the space of the city and reflecting the notion that the poster's natural habitat is the urban realm itself. At the same time, the space provides for museum quality galleries that acknowledge the poster as a significant cultural and aesthetic artifact. These exhibition areas need to be self-contained to provide the required levels of environmental control, since climatizing the entire through block site would be practically infeasible. The resulting design is therefore conceived as a negotiation between two contrasting but complimentary types of space: a more enclosed gallery volume and a more open and active public promenade. The formal galleries are nested within the existing building shell like a ship in a bottle, while the zone in between is activated by a series of collective programs and takes advantage of the qualities of the extant architecture: its cast iron columns, barrel vaults and exposed brick walls.
The design is organized by splitting the existing space into two halves: the galleries to the east and the public passage to the west, but inflects this line of division diagonally through the space. This geometry maximizes space for the main gallery to the north and opens up the public zone to the south, optimizing interface with the street. The result is a single 185 foot long diagonal wall that both divides the space programmatically while linking the 23rd and 24th street sides, guiding visitors through a series of interconnected spaces and providing a surface that accommodates the display of posters both within the galleries and along the public promenade. Acknowledging the 23rd street entry, a canopy pivots out from the wall to create a zone of overlap between the two kinds of space, connecting the front door at the sidewalk to the door of the main gallery near the midpoint of the space.
Juxtaposing a dynamic urban passage with sophisticated gallery spaces, the design for Poster House seeks to combine the old and the new, the rustic and the refined, the playful and the somewhat serious into a layered but still unified architectural experience. As a museum for the often overlooked and undervalued poster, the space balances contrasting spatial qualities that correspond to the poster's unique identity as both commerce and art, public information and cultural artifact.

Type
Credits
Client: Poster House
Project Team: Paul Lewis, Marc Tsurumaki, David J. Lewis; Anna Knoell,
Michael Schissel, Jillian Blakey, Sonia Flamberg, Jenny Hong, Eli Back
Structural Engineer: Silman
Mechanical Engineer: Thomas Polise Consulting Engineer PC
Lighting Design: Lumen Architecture
Code Consultant: J Callahan Consulting Inc
Graphic Designer: Pentagram
Interactive Designer: Conduit Projects Inc.
Photography: Michael Moran
Publications
Plitt, Amy. "First look at NYC's new museum celebrating poster art." Curbed